SSCF News
Celebrating 50th anniversary, SSCF launches new program
SSCF's 50 Vital Community Conversations will uncover community needs across southern Saskatchewan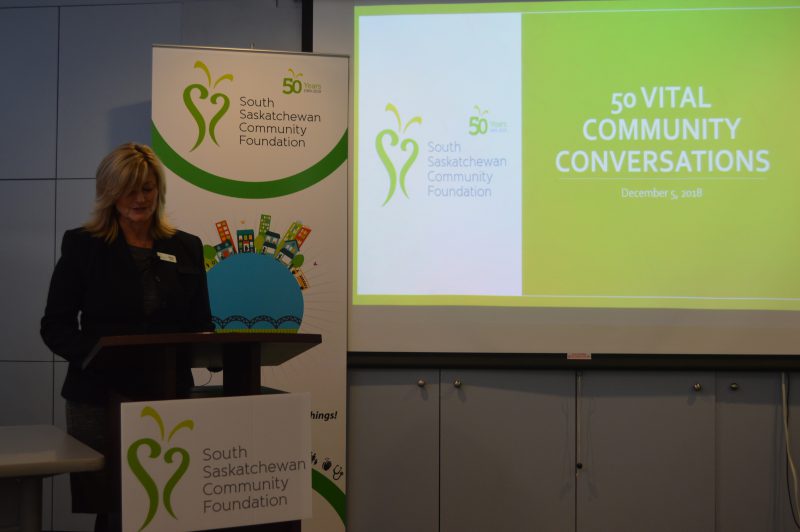 (December 6, 2018) – The South Saskatchewan Community Foundation (SSCF) is turning 50 years old in 2019! To celebrate its golden anniversary, SSCF is launching a new program called 50 Vital Community Conversations.
As a part of this program, SSCF will provide a $300 microgrant to 50 communities across southern Saskatchewan. The recipients will be selected from a grant application process between Dec. 5, 2018 and January 15, 2019. Organizations must be registered charities with a charitable status number. Visit this page to learn more about the program and to apply. 
SSCF Executive Director Donna Ziegler says the program's focus is to learn more about what matters in communities and how SSCF and others can help to make a difference.
"Vital Community Conversations are designed to be simple and informal in nature, providing an opportunity to listen to many viewpoints and to share perspectives," says Ziegler. "They are an opportunity to bring people together to discuss what matters most to their communities and learn about what needs to happen in south Saskatchewan to help define and make these communities the best places to live, work, play and for all to belong."
"This is an opportunity to mark 50 years of SSCF's focus of building stronger, more inclusive communities, while helping to better understand the priorities of the communities being served," Ziegler adds. "Together with qualified research personnel, SSCF will consolidate the detail from the Vital Community Conversations and launch this as part of Vital Signs® week in October 2019. What we learn will guide our actions to meet the needs that matter most and focus our resources for the greatest impact."
SSCF is looking for interest throughout its vast geographical area which encompasses more than 300 communities including seven cities in Saskatchewan. Funds are intended to benefit communities in the full area – from Davidson west to the Alberta border, east to the Manitoba border, and south to the United States' border.
View Global Regina's coverage here and read the article CJME wrote here. 
For additional information and media inquiries, please contact:
Michael Chmielewski
Executive Assistant and Communications Coordinator
South Saskatchewan Community Foundation
306-751-4751