We believe in facilitating Saskatchewan philanthropy, supporting local charities and developing our community so that our home is a more vital, strong, and fair place to live, work and play.
Founded in 1969, SSCF invests for the long-term with endowment Funds that focus on impact in our community. In addition to distributing grants to worthy causes throughout the year, we pool many visionary philanthropists' and organizations' funds – investing them together for a higher return. This allows donors to make their charitable grants not just once, but year after year.
Our work equates to a more effective gift today for now and tomorrow.
Charitable Status Number 890271448 RR0001
With your support, the South Saskatchewan Community Foundation celebrated 50 years in 2019. We're excited about the next 50 years!
At our anniversary celebration highlighting accomplishments and celebrating cumulative impact, His Honour the Honourable Russ Mirasty, Lieutenant Governor of Saskatchewan touched all with his thoughtful words:
"Those who support the South Saskatchewan Community Foundation show us the way. You show us, by your example, that each of us has the power to make a difference, and together, we can address even the greatest challenges. Thank you for giving us hope for a bright future for all."
The South Saskatchewan Community Foundation's (SSCF) strategic plan includes service-driven priorities to leverage our mission to advance community well-being by supporting and assisting charities, individuals, and companies achieve their charitable goals and dreams.
Our service-driven priorities include monitoring investments, adhering to a regularly reviewed investment policy and using third-party expertise. Together these priorities ensure pooled investments meet reasonable and acceptable targets consistent with best practices, performance and the Foundation's fiduciary responsibility.
Vision
By 2022, the Foundation will have an expanded presence across southern Saskatchewan through enhanced donor relations, an increased asset base and community impact.
Mission
The Foundation facilitates philanthropy by investing charitable gifts and bridging donor desires with community needs. We support agencies, charities, and causes to enrich the quality of community life.
Values
Trustworthiness
Accountability
Responsiveness
Collaboration
Benevolence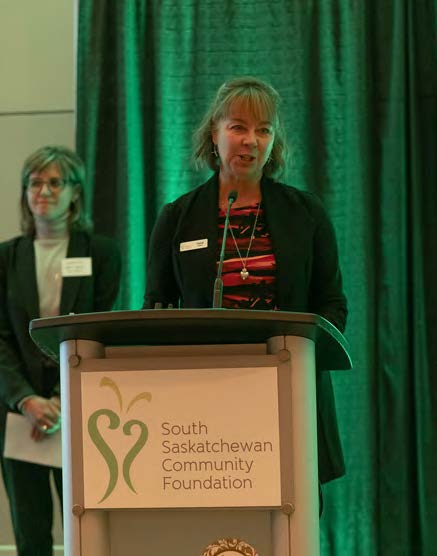 South Saskatchewan Community Foundation
2019-2023 Strategic Plan
Our Hope and Dream for Southern Saskatchewan
Southern Saskatchewan is a collection of diverse and thriving communities with a culture of inclusion and generosity. We care about and support each other here.​
The SSCF will improve community engagement and impact across Southern Saskatchewan.
The South Saskatchewan Community Foundation facilitates and guides philanthropy to enrich the quality of community life.
Our work equates to a more effective gift today for tomorrow.
Community Foundations of Canada
SSCF is a proud member of Community Foundations of Canada, our national organization that includes a network of over 191 community foundations.
Community foundations enrich the quality of community life in specific geographical areas. Rather they pool the charitable gifts of many donors to cultivate and grow permanently endowed funds to provide lasting support for local community needs and priorities.
Income generated by permanent endowment funds is distributed to support a broad range of community agencies/charities and causes, while the original investment is left to grow over time.