Donate and Make Your Community Impact
Create a Fund
Are you looking to leave a forever-lasting impact in your community?
Donate to a Fund
Are you looking to support a specific community Fund or cause?
Other Ways You Can Donate
Charitable Remainder Trust
This allows you to arrange your gift today and receive an immediate tax receipt while enjoying the income, or use, of the gifted asset for your lifetime. A Charitable Remainder Trust that is established during the life of the donor will not be subject to probate taxes.
Will
A timeless way to leave your legacy. An investment like this tells your story while providing your ongoing inspiration to future generations. A gift in your will may specify a sum of money, a specific asset, or a portion of your estate to be donated to your Fund at SSCF.
Life Insurance
A gift of life insurance can create a significant future gift at an affordable present cost. It's an excellent way to repurpose an existing policy once it is no longer needed to protect a growing family. Significant (but different) tax savings can result when you name SSCF as a beneficiary or transfer ownership of the policy to SSCF.
South Saskatchewan Vital Community Fund
The purpose of the South Saskatchewan Vital Community Fund is to allow SSCF to respond in Southern Saskatchewan to areas of focus identified in its Vital Signs© research.
Cowessess Community Educational Centre (CCEC) kept students connected to school during the Spring closure with the aid of SSCF's Emergency Response Fund.
"After the closure, we knew that keeping our students connected to their teachers was a priority. CCEC teachers reached out to the high school students by phone, Facebook and messaging and they discovered that the majority of students did not have a device for online learning. Our CCEC teachers quickly established online learning platforms so that they could provide learning opportunities for their students."
– Sandy Pinay-Schindler, Director of Education at Cowessess First Nation
With the funding from SSCF, CCEC were able to purchase Chromebooks to lend to all students from grade 9 to 12. This meant that all students had consistent online connection to their education for the previous school year. As the new school year is starting, the Chromebooks will be available for all online learning that has been implemented due to ongoing impacts of COVID-19.
It warms our hearts to know that the students on Cowessess First Nation all have access to their education as a result of this initiative.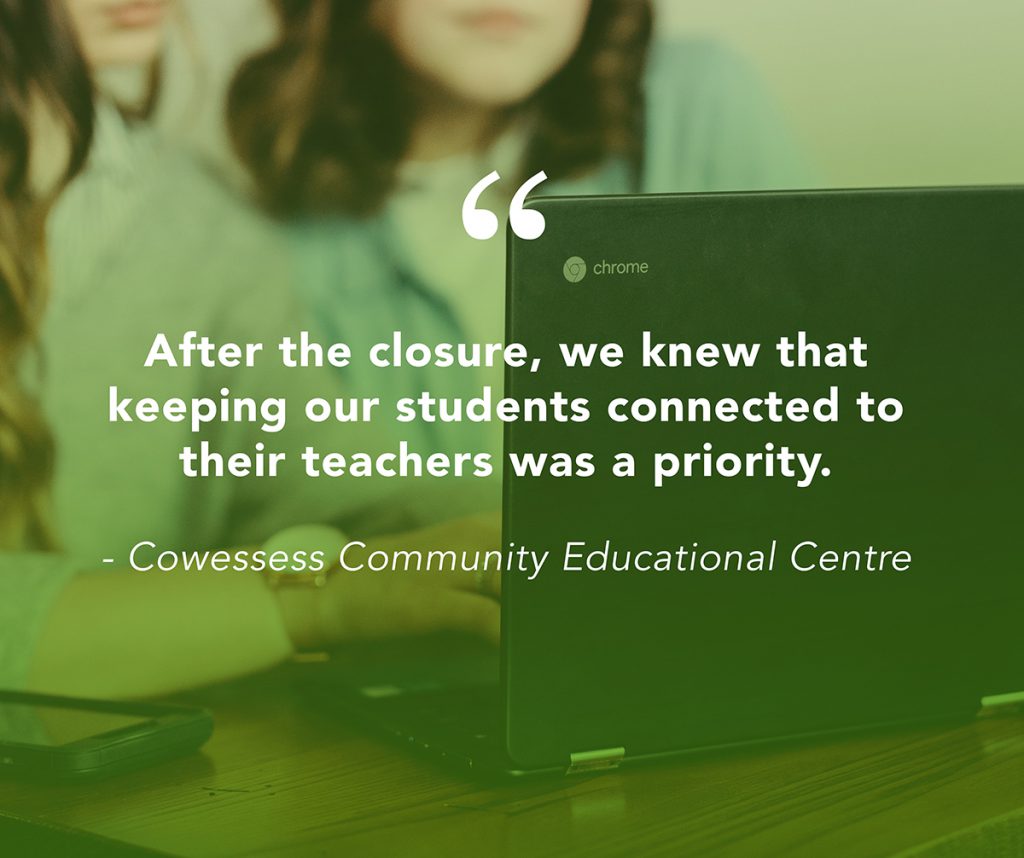 Need guidance to donate or create a fund? Contact us and we will gladly help.
South Saskatchewan Community Foundation
Phone (toll free): 1-877-751-4756
Fax: 306-751-4768
Email: info@sscf.ca