SSCF News
Former SSCF Board Treasurer Robert Perry Wins National Philanthropy Day Award
Perry wins in category of Outstanding Individual Volunteer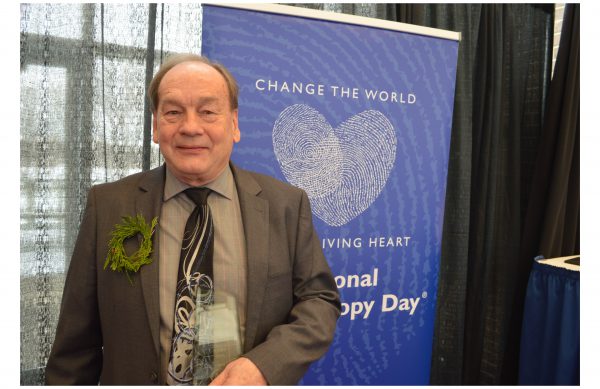 (November 14, 2018) – The South Saskatchewan Community Foundation (SSCF) is proud to announce that SSCF's long-serving Board member and former Treasurer Robert Perry has won an award in the category of Outstanding Individual Volunteer.
The Association of Fundraising Professionals – Regina Chapter awarded Perry the honour during their National Philanthropy Day® luncheon held on November 14 at Regina's Conexus Arts Centre. National Philanthropy Day® is a special day set aside to recognize the great contributions of philanthropy in our community.
Perry served on SSCF's Board of Directors for six years until June 2018 when his term ended. Most recently he served as SSCF's Treasurer and currently sits on the Finance Committee as that committee's past chair.
SSCF nominated Robert for the award because he has been a tireless local and national volunteer for over 30 years. He has been involved as a volunteer at the MacKenzie Art Gallery since 1988 in roles such as Board of Trustees Chair of Finance & Audit, Vice-President, President, Past President. He has served in all roles twice as he completed two six-year terms at the Gallery from 1988 to 2003 and then again in the same roles from 2011-2019. He also sat on the Board of Trustees for the National Art Gallery (Ottawa) from 2003 to 2008 for two three-year terms. There, he was the Vice-President as well as the Chair of the Human Resources (HR) Committee. He assisted the HR Committee in dealing with many difficult issues (over 50 grievances) to get it to a manageable state.  Robert's expertise has been integral in the hiring of new CEOs at the MacKenzie Art Gallery, the National Art Gallery, and the South Saskatchewan Community Foundation as he served on CEO/Executive Director Search Committees at all three organizations.
SSCF realizes the good fortune it has experienced by having Robert on our board. His expertise and dedication have helped us in innumerable ways. SSCF is privileged to have had Robert agree to stay on our Finance Committee as a past chair as the expertise he brings with him is invaluable. We are evermore privileged to have had him contribute to the growth of our Foundation.
Robert is a quiet and humble man who freely offers his time to help others. Robert, who has greatly contributed to the growth of our Foundation, has served Regina diligently and represented our community commendably nationally.
For additional information and media inquiries, please contact:
Michael Chmielewski
Executive Assistant and Communications Coordinator
South Saskatchewan Community Foundation
306-751-4751