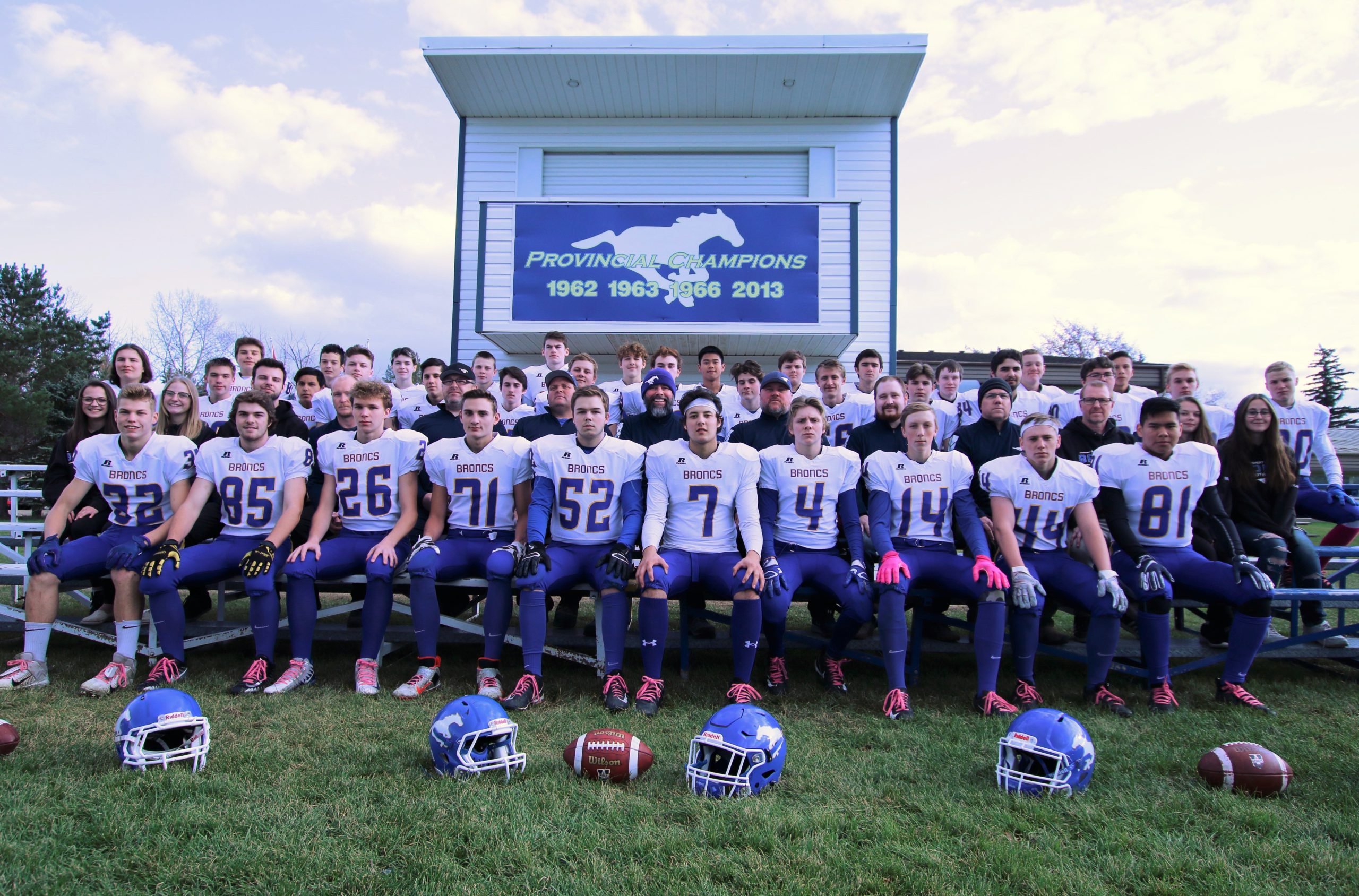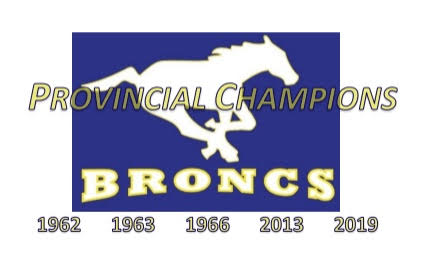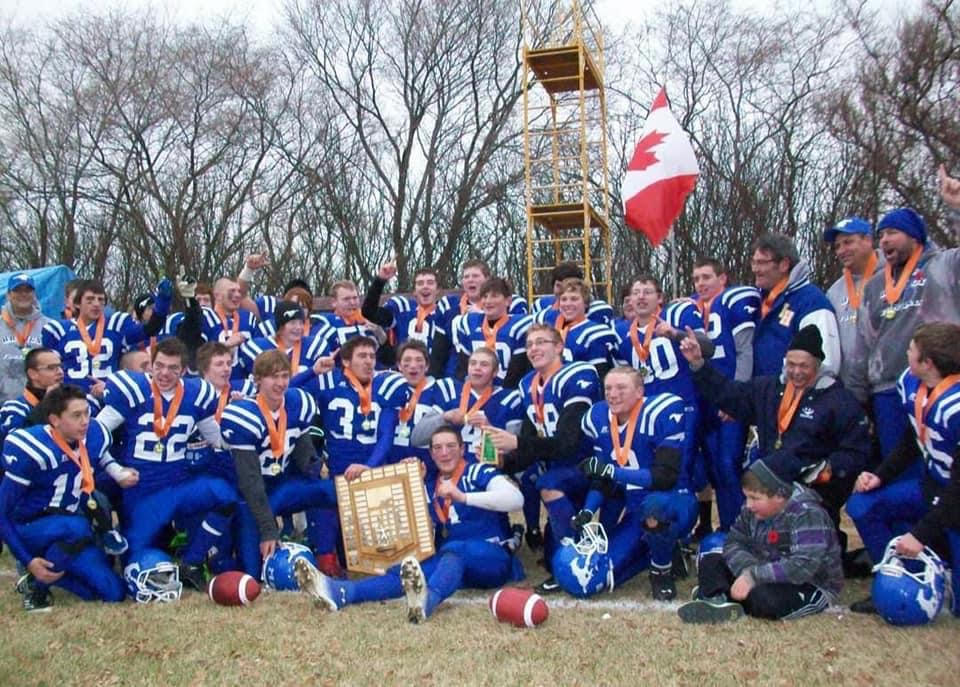 Broncs Football Capital Project Fund
The Broncs High School Football Club is celebrating its 75th year Anniversary!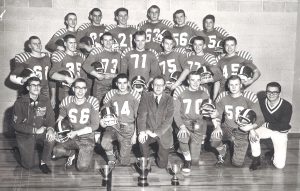 The Indian Head High School Broncs Football team and the Broncs Parents Association are amazed and humbled by the unbelievable community support we have received since the football program was revitalized in 2011.  Through personal donors, corporate sponsors and our many partners that have donated materials or work-in-kind, we have been able to construct an impressive Observation Tower, a McCall Field Welcome sign, and a state-of-the-art Score Clock.  This ongoing support provides opportunities to enrich the lives of a great number of young men and women through the sport of football.  The main goal of the Broncs program is to not only create great football players, but even better human beings. The Broncs Football program continues to grow in size and diversity as we welcome more female athletes and Indigenous youth from Indian Head and our co-op schools located in Wolseley, Carry the Kettle First Nation, Vibank, and Montmartre.
The McCALL Field Improvement Project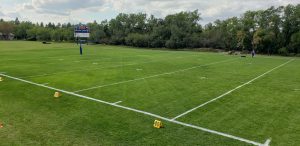 To commemorate our 75th Anniversary we are now launching another amazing capital project – The McCall Field Improvement Project.  This multi-phase project will include an irrigation system, football field & track resurfacing, upgraded bleachers and permanent field lighting.  This project will take place throughout 2023 and 2024.
These upgrades will benefit not only the students and athletes of IHHS but also community based sports groups such as the Indian Head Eagles Soccer Club and Indian Head Community Football both of whom use the facility to run their spring programs. These facility improvements will provide more opportunities for event hosting, a safer space for athletes, expanded seating for spectators and in turn increased economic opportunities for businesses in our community. 
This project is estimated to cost $250,000 and is only made possible by the commitment of our multiple volunteers, sponsors, and partners.  The passion and dedication of our volunteers, who contribute hundreds of hours every year, are the backbone of the Broncs Football organization.  Without them, our football program would not exist. Through their fundraising efforts so far, the Broncs Parents Association has so far raised $40,000 towards this project with another $10,000 being contributed by Indian Head Community Football.
The McCall Field Improvement Project is an ambitious undertaking, and we know that the project will require support from many different sources.  We have applied for various grant opportunities and as of May 2023, we have been very fortunate to have received $1000 from Farm Credit Canada and an extremely generous grant from The Saskatchewan Roughrider Foundation for $42,000!  We are awaiting responses from several grant applications, but recognize we still have a long road ahead and know that much of it will be paved by the hard work, generosity, and financial support from the much larger Broncs Nation.  
Realizing the need for additional support, we have partnered with the South Saskatchewan Community Foundation to create a Broncs Football Capital Project Fund.  This partnership provides a convenient and secure way for all donors near and far to support this project and show their Broncs Pride.  It also means we can accept all forms of donations to the project – cash, cheque, online credit card payments, and even stock transfers.  The biggest bonus for our donors is that we will now be able to issue a charitable tax receipt!  All donations, no matter how big or small, are sincerely appreciated and will bring us closer to project completion!
Gallery Photo Credits: Indian Head Museum
Donor Recognition Levels:
Broncs Legacy Seating
Donations of $200 or more – will receive a legacy name plaque on the new bleachers. Currently we have a maximum of 250 legacy plaques available – therefore, the first 250 donors will be commemorated. (donors must indicate on their donation notes the number of plaques and names for each)
Donor Recognition Wall
Donations falling within this range will be permanently recognized for their contribution on or Donor Wall at McCall Field
Bronze Donor – $500
Silver Donor – $1000
Gold Donor – $2500
Platinum Donor – $5000 or more
Broncs Alumni Challenge:
We issue a challenge to all our Broncs Alumni, young and old, to donate towards this project. The highest total Broncs Alumni donor, as of the 2023 provincial final, will be permanently commemorated at the field as the Top Broncs Alumni Donor – along with their name, their player # and final year played. (Broncs Alumni Donors will need to include a note with their donation – online portal has a donation note section, and if they donate by cheque they will have to include the note in the memo section. This will need to include Broncs Alumni – year- player number) this is to ensure their donation is added to the alumni challenge.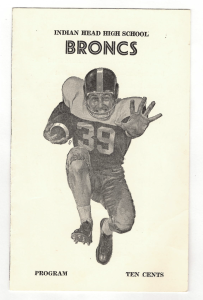 There is conflicting information as to whether the very first Broncs Football team was formed in 1947, '48 or '49.  However, according to local sports historian, the late Ken "Scoop" McCabe the Broncs inaugural season was 1948.  The team has gone through changes over the years – initially the name being spelled "Bronks", team colors going from purple & white to blue, white & yellow and going from 9 man to 8 man, to 6 man and then back to 9 man.  McCall Field's namesake, Coach Dave McCall was head coach of the team from 1964 – 1987.  Although football was very popular for several decades, the team disbanded after the 1997 season.  Reports vary as to why, but it is suspected that waning interest from players and coaches, aging equipment and lack of funding finally took its toll.  
Fast forward to 2011 when current coach Timothy Klein recognized a renewed interest from students wanting to play.  The Prairie Valley School Division agreed to allow the resurrection of the Broncs Football program but only if the team could somehow raise $10,000 from outside funding.  The community of Indian Head quickly got behind the idea and within a few short weeks the $10,000 had been collected from many supporters.  Coach Klein also realized it would take many volunteers to run a successful program and so the Broncs Parents Association was born.  President Amy Redding was instrumental in its creation and success until 2015 at which time she passed the torch to current president Virginia Horsman.  The association provides financial support for some annual expenses not covered by the school budget and for capital projects. During its rich 75 year history, the Broncs have captured 5 Provincial Championships in 1962, 1963, 1966, 2013 and 2019.  The Broncs were also silver medalists in 2017, 2018 & 2022.  
We will be posting more photos and stories throughout the summer on IHHS Broncs Football Facebook page… stay tuned!